[NEW LINK] A pool to bet on Derica's birth date, birth weight, length and name!
May 21, 2018

18h53 0 Comments
Many people told me that they had to create an account in order to participate in my baby poll, so I've replaced it with a Google Form that you can fill out quickly without creating an account. If you're reading this, I hope you'll take a few minutes and participate!

(If you've already filled out the original baby poll, you don't have to do it again. I'll take your info from the original poll and import it into this one!)

https://goo.gl/forms/TnCgHrRu05iHQ3V92



36 week baby bump (May 15, 2018)
May 16, 2018

16h41 0 Comments
Derica is still sitting pretty high. We're now 5 weeks from her (French) due date (and 4 weeks from her American due date), but I don't think she's ready to come any time soon. She seems to be pretty happy where she is!

I still feel relatively good, considering I'm carrying around a 6lb+ baby in my belly. I'm lucky enough to go to physical therapy twice a week (100% covered by my health insurance - in France, all doctors appointments are 100% covered by basic health insurance starting on Day 1 of month 6): one day is dedicated to massaging my lower back, and the other day we do exercises to stretch and strengthen my core.

One thing that has surprised me about the third trimester is the fatigue. In my first trimester, I was a bit tired and I took a couple of naps here and there, but ever since I hit the third trimester, it feels like I can never get enough sleep. Take last night for example: I slept through the night, from 11pm to 7am, but after eating breakfast and hanging out on the couch watching TV, I went back to bed and slept another 2 hours from 10:15 to 12:15. I did the same thing last Monday! Luckily I'm almost on maternity leave, when I'll be able to take as many naps as I want (until Derica arrives, at least!)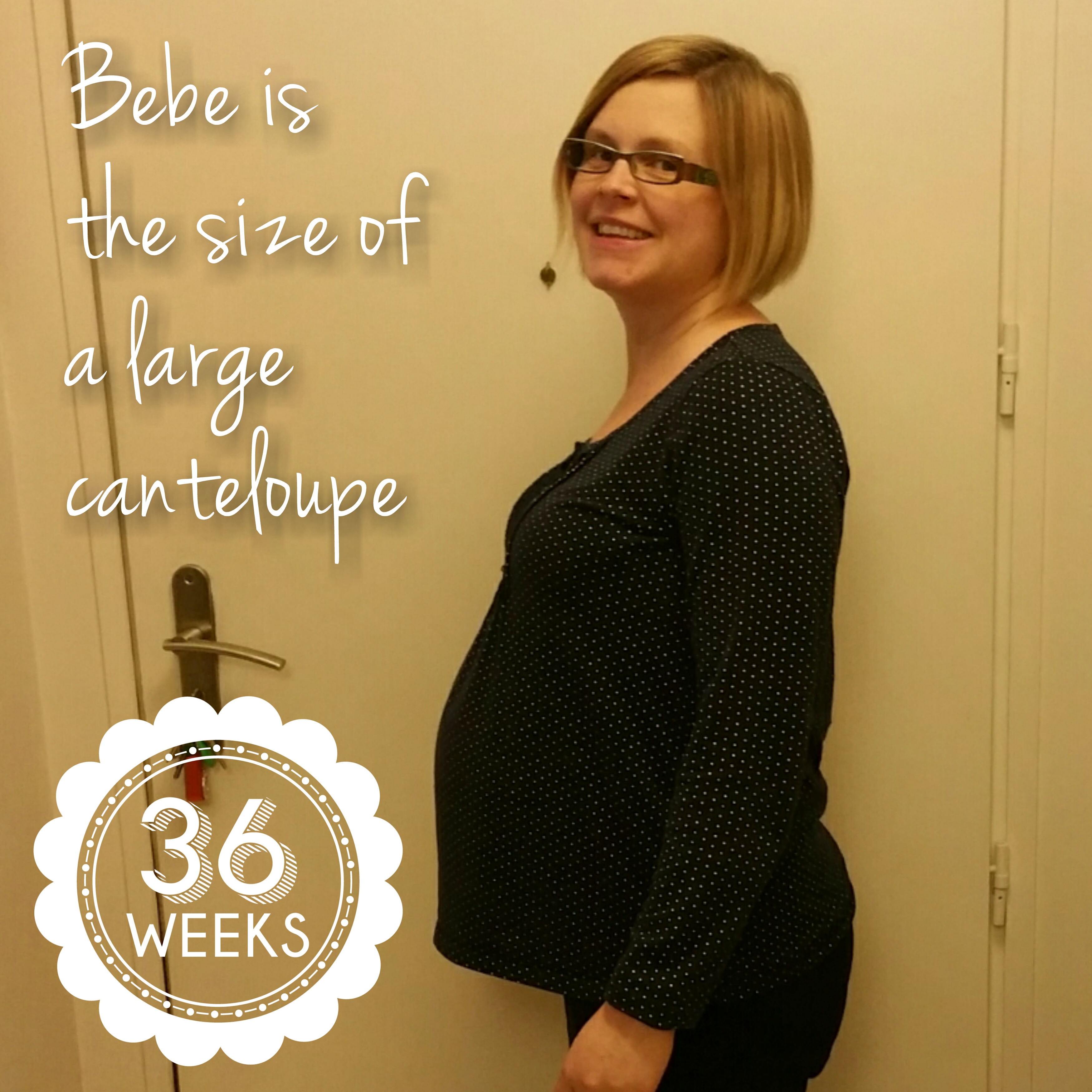 Maternity leave in France
May 12, 2018

16h08 0 Comments
I feel very lucky to be living and working in France, where everyone gets 16 weeks of paid maternity leave. By default, maternity leave starts 6 weeks before the expected due date and ends 10 weeks after the expected due date. If your baby comes early, nothing changes, but if your baby arrives after the expected due date, you get ten weeks from the date of the baby's birth.

A few months ago, one of my colleagues informed me that it is possible to get a doctor's note stating that my pregnancy is going well and that I can start my maternity leave up to 3 weeks later than planned, which adds the extra weeks to the time after the baby is born.

Because I'm due June 19, my maternity leave was supposed to start on May 8th and go through August 27th, but at our doctor's appointment last Monday, I asked my doctor to write me a note to delay the start of my maternity leave by two weeks. Despite my slightly elevated blood pressure, she accepted, so my maternity leave will now start on May 22nd and go through September 10th. I'll start work again on September 11th, which works out perfectly since the fall semester starts on September 17th!



Eurovision 2018 is this Saturday!
May 10, 2018

22h00 0 Comments
The Eurovision 2018 final is this Saturday, and here are some of my favorite songs so far.

Australia (which is not in Europe, so who knows how they're allowed to participate ...)


Ireland


The Czech Republic


And just for fun, here's France's entry, which I don't think has much of a chance of winning but it does get stuck in my head!




Our 8-month checkup at the hospital
May 10, 2018

21h14 0 Comments
We had our 8-month checkup at the hospital this past Monday, and it was quite the experience.

I had to invigilate an exam in the morning. The university is next door to the hospital, so I decided to stay downtown, grab lunch, and wait for our 2pm appointment. Whenever I need to grab a quick lunch downtown, I always go to the same bakery (nicknamed the "gas station bakery") because they have delicious sandwiches, a great selection of desserts, and the "sandwich + dessert + drink" meal deal is only 6.30 euros. I ordered what I normally get: a chicken sandwich with lettuce and mayonnaise on a poppyseed baguette, a tartelette au citron (= individual lemon pie), and an iced tea.

I had planned to eat lunch in the teachers' room on campus, but given the recent events at Lyon 2, university security was preventing everyone from entering campus. Luckily the weather was nice, and I ended up eating outside at a picnic table looking out over the Rhone river.

After I finished eating, campus was open again (only to teachers and admin staff), so I decided to go to the teachers' room and do some work before our 2pm appointment. The only problem was that when it was time to leave, security had closed off all entrances/exits! One of my friends/colleagues was with me, and she explained the situation to one of the security guys who then accompanied me to a different entrance/exit where he surreptitiously let me out.

At our doctor's appointment, I did my urine test and blood tests, and at the end of my blood test, I asked the nurse if my urine test was ok. The only thing she said was, "Your doctor will talk to you about that."

And that's when I realized that my delicous, wonderful lunch has probably not been the best idea.

When we were in with the doctor, she informed me that my urine test showed a high level of sugar. I told her what I had eaten for lunch, and she quickly took me to task, telling me that I should eat either salad + lemon pie or sandwich + piece of fruit.

The rest of the appointment went well (although my blood pressure is a bit high, so a midwife will come to our apartment twice a week and check my blood pressure to make sure it doesn't go too high), and Derica is doing just fine.

Since then, Damien keeps teasing me whenever we walk past a bakery (which in France happens often!) by asking me if I want a tartelette au citron. It makes me laugh, and it reminds me that I do need to watch how much sugar I'm eating.



35 week baby bump (May 8, 2018)
May 09, 2018

22h06 0 Comments
As you can see in my 35 week baby bump photo, Derica is taking up more and more space! I feel like she's starting to move down, and compared to last week's photo, I think the bump looks a bit lower. What do you think? Does she look like I'm carrying her lower?

Third trimester fatigue is weird. I get really tired in the late afternoon, around 4pm or 5pm, and sometimes I fall asleep on the couch or I take a quick nap. However, even when I don't nap, I have trouble falling asleep when it's time to go to bed, and I toss and turn for an hour or two before I eventually fall asleep.

Despite the extra 25+ pounds I'm carrying, I still don't think I waddle. Sure, I walk extremely slowly, but thanks to weekly physical therapy to massage my lower back, and using an exercise ball to loosen my joints, I think that I'm walking normally. That being said, it's just my impression of my way of walking, so maybe I should ask someone else if I waddle!

(I just asked DD, and he says that sometimes I waddle ... I guess that's better than all the time!)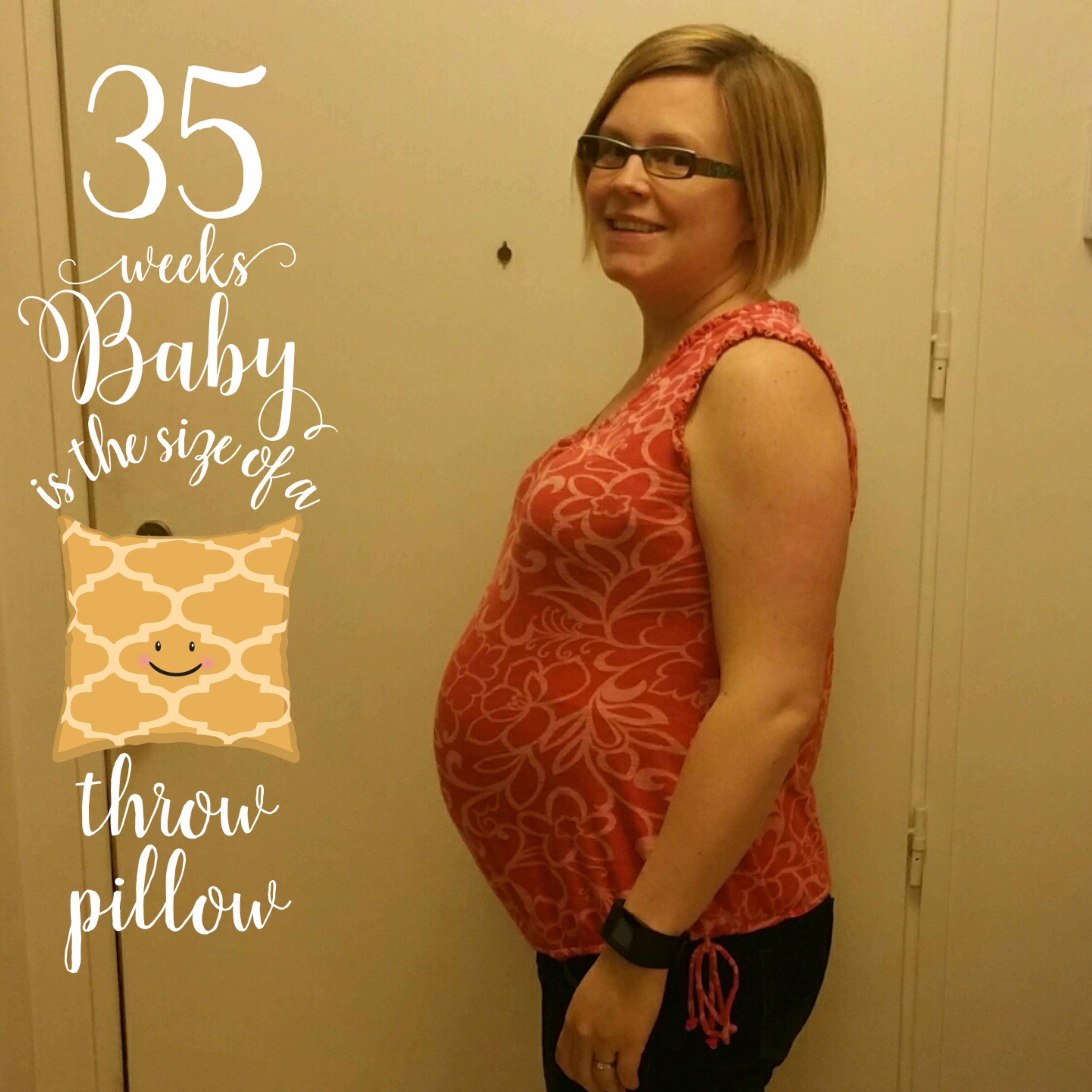 34 week baby bump (May 3, 2018)
May 06, 2018

19h04 0 Comments
My baby bump picture was taken late this week because Tuesday, May 1st, was a holiday here in France, and I spent the day in my pajamas. And then on Wednesday I was so tired that I forgot to take the picture before I changed into my pajamas, and I couldn't be bothered to put real clothes back on for the photo. Because of all of this, we took the picture on Thursday, May 3rd.

Derica is very active, moving around and kicking and punching, mainly in the evening. Luckily she's not too active at night, and I manage to sleep relatively well (except for the difficulties of rolling over in the middle of the night with a giant belly!)

The heat broke for about a week, but it's kicked up again. My maternity shorts finally arrived yesterday (they're currently in the wash), and they fit perfectly. I'm hoping that they'll dry overnight so that I can wear them tomorrow.

Walking long distances is becoming more of an issue. This morning we walked to the market (normally a 15-minute walk, now a 20-minute walk), and when we got there, I felt like I needed to sit down and rest. On the way back, DD needed to stop in a store, so I sat on a bench outside and caught my breath. I've always been active (mainly running), so it's hard to accept that I can't do the same things I used to do. I know that this has been a recurring theme on my blog, but it's the truth; being pregnant means accepting that things are changing. Maybe it's a way to prepare for being a parent and prioritizing your child?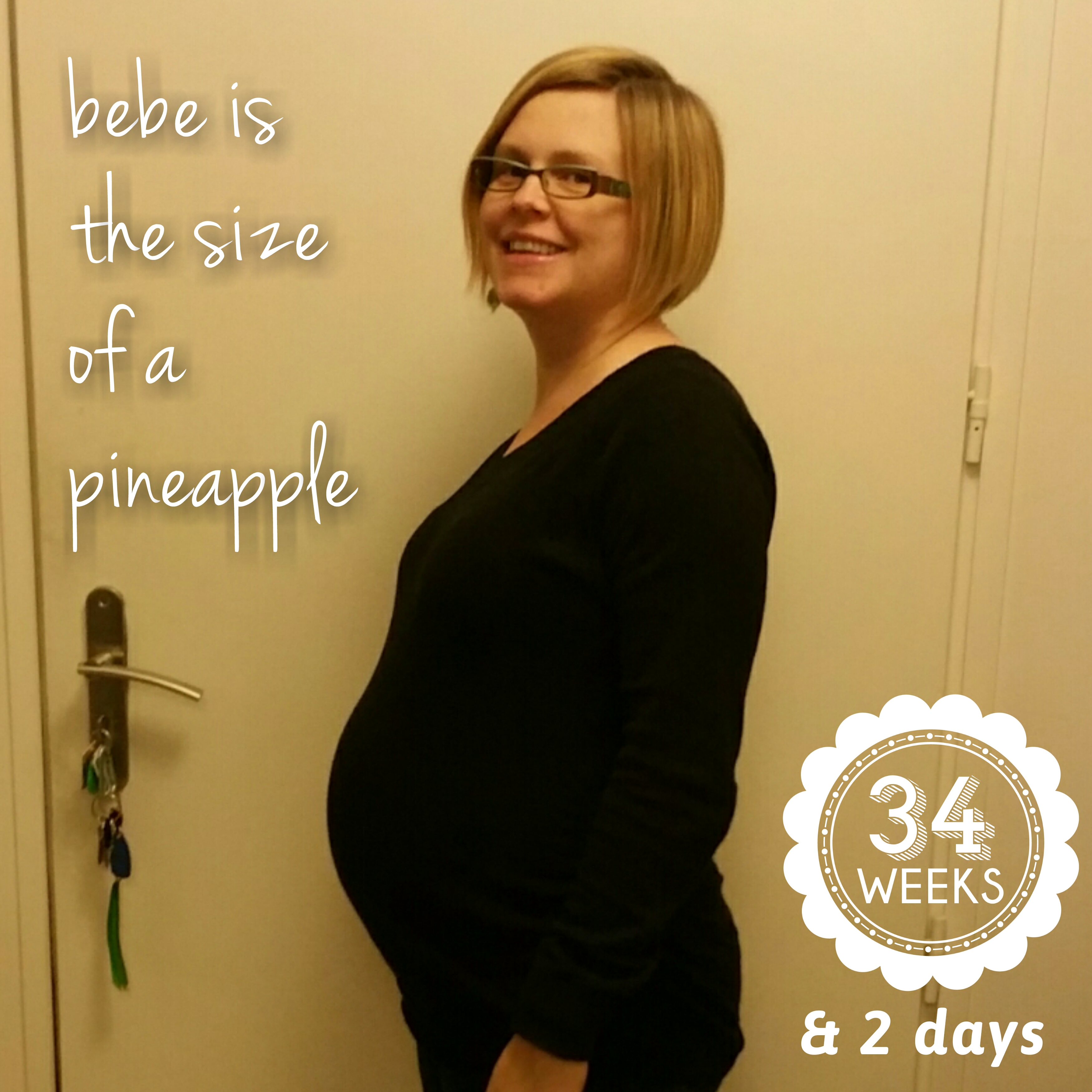 Paying rent
May 01, 2018

22h36 0 Comments
I'm at 34 weeks today, and I think that this baby should start paying rent. Her feet and butt are up in my rib cage, and it's making it very hard for me to breathe.

I know that it'll all be worth it in the end, but right now, I'm very uncomfortable!



33 week baby bump (April 24, 2018)
April 25, 2018

10h28 0 Comments
Well, it's official, I have a basketball belly!

We had our last ultrasound, and Derica is growing properly ... maybe a bit TOO well, based on her revised estimated birth weight! :O But that could also be due to the fact that I've craved all things sweet during this pregnancy like fruit (somewhat healthy) and chocolate (a bit less so!)

We've been dealing with higher temperatures than normal around here, so I finally had to get out the spring/summer clothes. I realized that I have one maternity skirt but I don't have any maternity shorts, so last weekend, I had to bite the bullet and buy two pairs online just in case the warmer temperatures continue.

And as my sister noted when I sent her the above photo, I'm wearing the same top as last week's weekly photo. I guess it's my Tuesday shirt!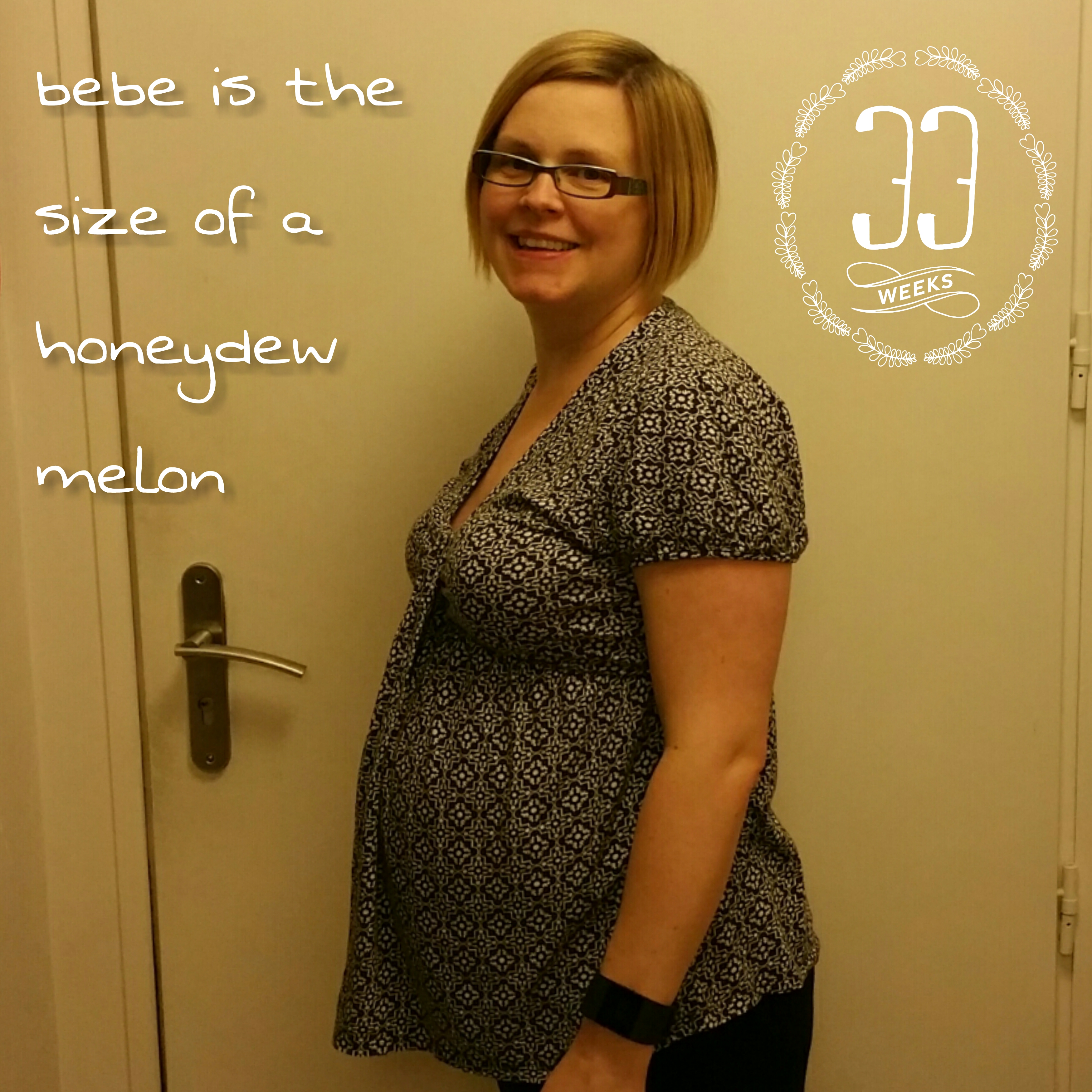 Baby shower cartoon
April 23, 2018

14h17 0 Comments
Since my blog has been very baby-focused recently, I thought I'd share a funny baby shower cartoon that I just came across: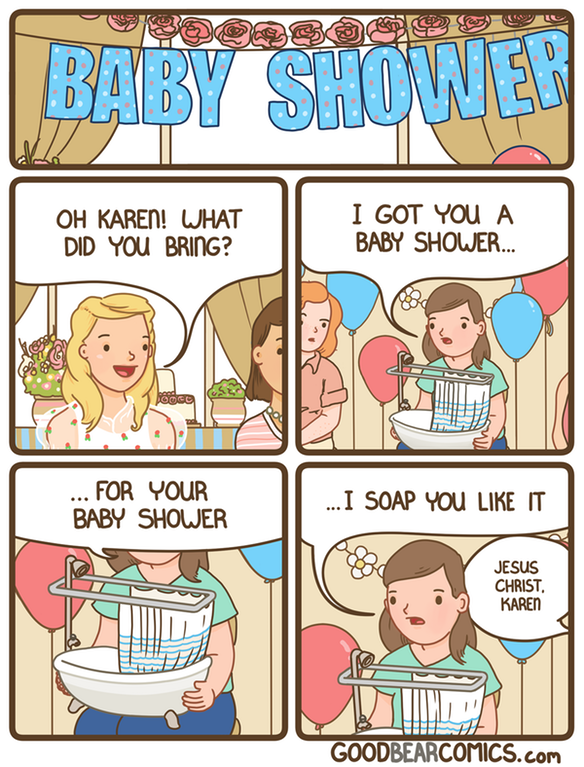 << previous blogposts
later blogposts >>