Bebe's still not here yet ... T+3 (American due date) / T-4 (French due date)
June 15, 2018

19h15 0 Comments
A few quick updates while I continue to wait for bebe. I thought she was going to arrive yesterday (June 14th), but I guess I was wrong!

- Still no sign of labor, so I went for a 4+ mile walk with a friend this afternoon (thanks, Carrie, for the company!). I've been home for 2+ hours and still nothing, so I'll try to convince DD to go for a walk with me tomorrow, maybe to the market in the morning.

- While Carrie and I were walking from the park to the metro stop, we found a small Middle Eastern grocery store that looked interesting, so we went in. The owner ended up chatting with us (in French), telling us that he's Syrian and he moved to France in 2009/2010 and he didn't speak a work of French. We ended up having a wonderful conversation, and he recommended a Lebanese restaurant and a falafel restaurant. We also found really inexpensive Greek yogurt (which Carrie bought - if it's good, I'll go back and buy some for us!). As we were leaving, he gave us each two pieces of Syrian nougat to try.

- Some of Damien's 9th graders (3eme) gave us a card and a present for the baby. It was super cute - they wrote (in English) "congratulations" and "bravo". The present consisted of 2 dresses and a small pillow animal for the baby. I wrote them a thank you card (in English) and Damien gave it to them the following day.

- Two nights ago, I stayed up until 2am to finish a book (Anita Shreve's "The Stars Are Fire" - great book!). I've always enjoyed doing that, and I know that it'll probably be the last time in a very long time that I'll be able to do so.

- I've made homemade chocolate pudding twice in the last two weeks, and it's SUPER easy and delicious. Recipe from smitten kitchen: https://smittenkitchen.com/2008/02/best-chocolate-pudding/

- I also had 4 overripe bananas and tried a new banana bread/cake recipe that DD and I both loved. We ate one loaf in about 3 days, and I froze the second loaf for when baby's here and we want something sweet. Snickerdoodle banana bread recipe: https://www.shugarysweets.com/snickerdoodle-banana-bread/



40 week baby bump (June 12, 2018)
June 13, 2018

15h58 0 Comments
This picture was taken on Derica's American due date (June 12, 2018). How has she not decided to come out and make her appearance yet?!

C'mon baby girl, we want to meet you! It's time!!



For those of you who have asked us what we want/need for Bébé Dumont ...
June 10, 2018

17h31 0 Comments
For those of you who have asked us what we want/need for Bébé Dumont (who is due to make her appearance on June 19th but she could decide to come any day now!), the one thing that we could use is baby books and children's books in both English and French. We don't care if they're used, we just want to be able to read to her as much as possible in both languages.

A few sites with free international shipping and decent prices:
- https://www.betterworld.com/
- https://www.abebooks.com/

Thanks to some VERY generous friends (you know who you are!), we already have Goodnight Moon, Brown Bear Brown Bear What Do You See, The Rainbow Fish, and Stellaluna. We also already have copies of the Little Prince (in French and in English).

Our address for shipping:
38 rue Jeanne Hachette
69003 LYON
France

If you have any questions, please let me know!



39 week (and one day) baby bump (June 6, 2018)
June 07, 2018

15h36 0 Comments
Bebe is the size of a watermelon. Hard to believe we've come so far!



Bebe's not here yet ... T-6 (American due date) / T-13 (French due date)
June 06, 2018

21h12 0 Comments
Well, bebe Dumont, aka Derica, is still not here. I'm 39 weeks and 1 day, and she hasn't shown many signs of wanting to come out. My belly is sitting a bit lower (as you'll see in the 39w1d pic I'll post tomorrow), but I don't really feel like she's completely dropped. I haven't had any other signs of labor either.

Luckily the summer heat hasn't shown up yet. I think we hit 82F (28C) today, but between the new awning on the balcony and my new Dyson fan (my "push present" to myself!), it hasn't been unbearable in our apartment.

To be honest, even the end of my pregnancy hasn't been awful. Sure, it's hard to move around, and what used to be a 15-min walk to the butcher is now a 25-minute waddle/shuffle, but bebe has behaved for the most part and I haven't been too uncomfortable.

I can admit that we're getting very excited to meet our little one in a few days/weeks!



The car seat debacle
June 03, 2018

16h03 1 Comment
About 6 or 7 weeks ago, we bought a Peg Perego stroller that has interchangeable parts so that it grows with the child: there's a stroller frame that folds up (good for traveling), there's a bassinet that snaps into the frame for when the child is a newborn, there's a car seat that snaps into the frame for when you're traveling, and there's a more traditional stroller that snaps into the frame for when the child is old enough to sit up on his/her own.

One of the reasons we bought this particular stroller is because Peg Perego sells a car seat base that you attach securely to the car, thus making it easier to put the car seat in the car. The car seat snaps in and out of the base, and you can be sure that your baby is safe. Without the base, you have to put the car seat into the car and then use two opposing seatbelts to attach the car seat to the car (one goes over the top of the car seat, whereas the other goes around the back). It's more time consuming and more prone to error.

Before I bought the car seat base, I checked in the Peg Perego booklet to make sure that our car (a 2008 Ford Fiesta) was on the list of car models with the special "isofix" attachment. It was listed, so I went ahead and bought it.

We decided to try to install it about 2 weeks after it arrived. We took it to the garage, along with our phones (so that we could look up youtube "how to" videos if necessary). As we struggled to install it, those youtube videos came in handy. They instructed us to look for two "isofix"-labeled clips right underneath the seat ... and our car just didn't have them.

At this point, with the frustration mounting, Damien looked at the Peg Perego list of isofix cars and informed me that I had misread the list. Yes, we have a 2008 Ford Fiesta, but when he bought the car, it was the end of the model. In the booklet, it listed the 2008-2015 Ford Fiesta, whereas our model was the 2003-2008 model. Which meant that despite our best efforts, our recently purchased car seat base was never going to attach to the car properly. Luckily we had purchased it on Amazon.fr, so we were able to return it and get a full refund.

We brought the car seat to the garage and practiced attaching it with the seatbelts, and it turns out it's not as complicated as we had originally thought. Also, we only take the car once or twice a month, so it's not something that we'll have to do multiple times a day. And hopefully when we're sleep-deprived, we'll still be able to figure out how to attach it properly!



38 week baby bump (May 29, 2018)
June 01, 2018

18h01 0 Comments
Derica is officially 38 weeks old, and we are getting so impatient to meet her! I don't think she's coming just yet, but Damien seems to think that it'll happen in the next few days.

Now that I'm on maternity leave, the days go by slowly but quickly, if that makes any sense. Each individual day seems to go by slowly, but it's hard for me to believe that it's already been almost 2 weeks!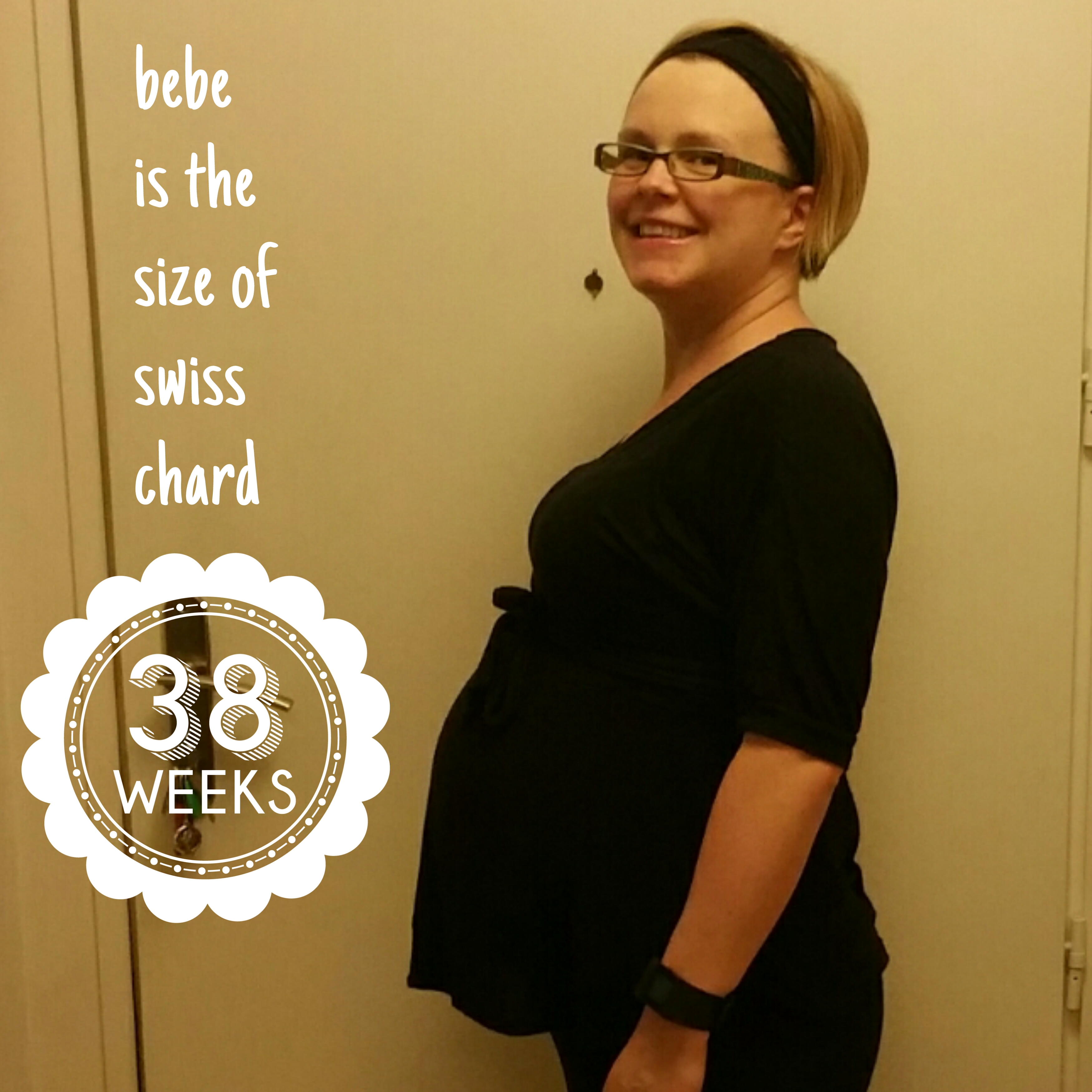 Sometimes good things happen!
May 29, 2018

21h28 0 Comments
As I've mentioned before, I bought most of my maternity clothes in the US when I was back for the Christmas holidays, but I don't think I ever told the story of getting the clothes back to France!

I pack by laying everything out on the bed and sort it into piles. I find that this makes it easier to visualize what to choose next as I pack. Back in December, I did that, and I realized that I had quite a lot of stuff to pack, between the clothes, Christmas presents, and other random things that I'd bought/received in my 2 weeks in Massachusetts. I decided to buy space-saving vacuum-seal bags to try to reduce the amount of space that the clothes would take up.

The day before my flight, I packed my suitcase and weighed it, making sure that it wasn't over 50 lbs. It was relatively full, even with the space-saving bags, and I realized that I still had quite a lot of stuff to pack. I asked my parents if I could borrow a carry-on suitcase, and after they accepted, I packed the remaining stuff into the small suitcase.

The problem? The small suitcase weighed over 30 pounds!

Most carry-ons are limited to 10 to 12 pounds, and I worried about getting caught with a severely overweight carry-on. I also wondered about the logistics of trying to put the carry-on into the overhead bin at three months pregnant. On top of that, I had a connecting flight, which meant I'd have to drag the carry-on around with me. I shared my concerns with my family, and everyone seemed to agree that it would be much easier to pay the $100 to check an extra suitcase.

When we got to the Air France airport check-in counter on Dec 29th, I told the lady that I had to pay to check a second suitcase. She said ok, and proceeded to check me in. She put the luggage tag on the first suitcase, and then she put the luggage tag on the second suitcase. She handed my passport and my boarding passes back to me and wished me a safe flight.

After my parents, my sister and I walked away from the counter, I looked at them and said, "She didn't charge me for the extra suitcase!" I don't know if she did it intentionally, or if it was just an oversight, but I'd like to believe that someone was looking out for me. I've almost always had good experiences on Air France, and this is just one more to add to the list!

PS - When I got to Lyon, one of my suitcases didn't come out on the belt, so I went to make a claim and saw it waiting behind the counter. I thought that maybe Air France had realized that I hadn't paid for the second suitcase, but in the end, it was just there waiting for me to pick it up (apparently there had been too many suitcases on the belt).



37 week (and one day) baby bump (May 23, 2018)
May 24, 2018

21h02 0 Comments
With my maternity leave starting on May 22nd, I spent most of the day in my pajamas and forgot to take my weekly picture.

DD and I got caught in the rain on our way home from our 9 month checkup at the hospital, so I changed into my pajamas as soon as we got home, and then I couldn't be bothered to put real clothes back on for the weekly baby bump photo.

The doctor told us that Derica has extremely long legs, which makes sense because every evening, she extends her legs and sticks her feet right up in my ribs, where they stay until I either go to bed and stretch out or until I push them down (although usually they pop right back up again a few minutes later!)

I'm still going to the gym, at least until the end of the month (thanks to a note from the doctor, my gym membership will be suspended from June 1st to October 1st). I make sure to go when the pool is available for open swimming (and not Aquabike or Aquagym), which means I have to go in the early afternoon. I swim laps very slowly, using a pool noodle under my arms to make it a bit easier. It's actually very nice to just be in the water and bob around. I plan on going a few more times before the end of the month!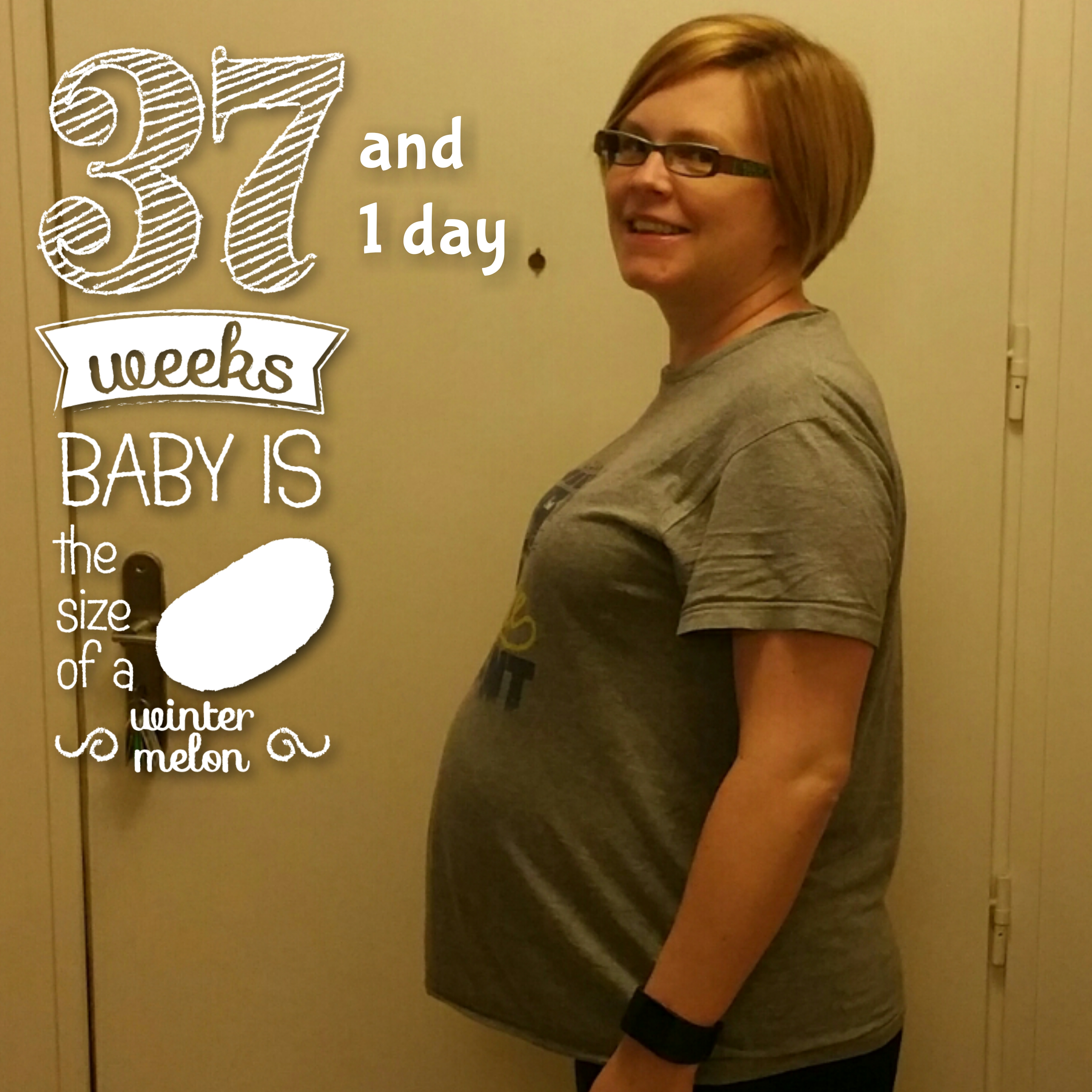 Strangers giving me pregnancy advice
May 24, 2018

12h44 0 Comments
I finally had my first encounter with a stranger giving me pregnancy advice.

Tuesday morning, after my physical therapy appointment, I stopped at the local grocery store to pick up a few small items (flour, ginger, garlic and an avocado). It was late morning, so only one cash register was open.

As I stood in line, I must have been absentmindedly rubbing my baby bump. The man behind me (a security man in uniform who was only buying a beer), looked at me and asked, "Is it starting to get difficult?" Wanting to be polite, I said, "No."

He then continued, "You have to take it easy. Don't overdo it! I'm just saying this for your own good."

I just nodded and finished checking out. But who did this guy think he was? My doctor? It wasn't like I was running a marathon or doing cartwheels down the sidewalk. I was just buying a few small items at the local grocery store on my way home!

From what I've heard from friends in the US, and from what I've read in online forums, this "stranger advice" seems much more common in the US than it is in France. When it comes to strangers, the French seem to keep their opinions to themselves, and I appreciate that. I'm not sure how I'd react if every random stranger I came across tried to give me pregnancy advice!

<< previous blogposts