Chloé is 4 months old!
October 19, 2018

22h11 0 Comments
Dear Chloé,

Today you turn 4 months old, and I can't believe that you've already been a part of our family for 4 months already! It seems like we were bringing you home from the hospital just yesterday. At the same time, you've become such an important part of our family that I can't remember what life was like before you joined us.

Your 4-month checkup with the doctor will be on Oct 29th, so I don't know your 4 month height and weight yet, but I know that you've grown. You're an excellent eater, although papa is not a big fan when you eat so fast that you choke and proceed to projectile vomit all over him!

In the past week or so, you've started blowing (really wet) raspberries ALL the time, which makes us laugh. You've also recently discovered that you can shriek, and, well, you've hit some pretty high, ear-piercing notes. We laugh a lot less when you do that.

Over the past month, you've also discovered your feet, and you love to grab them, especially when you're not wearing socks. It's very entertaining to watch you flop around as you grab your feet, but it can be a challenge to change your diaper. You're rocking tummy time and holding your head up really well, but you haven't figured out how to roll over yet. But we're not worried, we know that you'll figure it out in time!

You're still not sleeping through the night, but that's ok, we know it's not going to last forever. You go to sleep super easily, and that's wonderful. We feed you, we put you into your PJs and your sleepsack, I rock you and read you a couple of stories, and then I put you down in your crib. Most of the time, you're looking around as I kiss you goodnight, and after I leave the room, you quietly fall asleep. Every once in awhile, you're overtired and you need your pacifier to fall asleep, but as soon as you're asleep, you spit it out. At the moment, you're sleeping from 8pm to 7am with two wakeups during the night.

Papa and I are also thrilled that your internal clock wakes you up around 7am (and not 430 or 5am!), and you're always smiling when you wake up - a big, ear-to-ear smile that grows even bigger when you see us smiling down at you in the morning. During the week, when I have to drop you off with the nanny at 8:30am, I get up at 6:45 and I try to shower before you wake up. That way, I'm ready to feed you when you wake up, and then I eat and you hang out with me on the couch before we both head out the door. I'm very lucky to be able to spend Tuesday and Wednesday mornings with you, when we normally hang out and read books and sing songs (and while you nap, I shower!).

You still love bath time, and you're so strong that when you kick, you splash water all over me and all over the bathroom. I've jokingly started calling you Michael Phelps when you do that ... maybe you'll enjoy swimming when you're a bit older!

Papa is on vacation for the next two weeks, but I still have to work next week, so you two are going to spend a week of quality time together. Your face lights up when you see your Papa, and I know that the two of you will bond even more next week.

You are the light of your lives and you bring us so much joy. We're looking forward to seeing more of your personality develop in the next few months!

Love,
Mama



Chloé is 12 weeks today!
September 11, 2018

17h14 0 Comments
Our little Chloé is 12 weeks old today, and today is also the day that my maternity leave officially ends. I start back to work tomorrow (and our semester starts next Monday).

In order to prepare for me going back to work, Chloé started going to the nanny last week, with a one-week adaptation period: she went for an hour on Monday and I stayed, then 2 hours on Tuesday without me, 3 hours on Wednesday morning, 4 hours on Thursday over lunch and naptime, and 4.5 hours on Friday. She did great, and the nanny we chose is really good. She looks after 4 kids during the day, and she takes them to the park, she reads them books, and they play with different toys (very little tv watching, which is good since Chloé spent the summer watching too much TV with us!). Chloé will be with the nanny for approximately 30 hours per week, as DD and I are lucky enough to have jobs that allow us a certain flexibility. I'll be home with her on Tuesday and Wednesday mornings, and Damien will look after her on Wednesday and Friday afternoons.

At 12 weeks, Chloé loves:
* to smile. Big, gummy smiles from ear to ear that just melt our hearts.
* her mama and papa (but ESPECIALLY her papa - her eyes light up when he walks into the room!)
* her feet. If we prop her up on our knees facing us, she plows our bellies with her feet while she stares at them
* to suck on her hands. Sometimes it looks like she's trying to fit her whole hand in there! Our favorite, however, is when she sucks on her middle and ring fingers, and the others are flat against her face = our little punk rocker!
* Her swing. Whenever we put her in the swing, she gets a big smile on her face. She especially likes looking at (and talking to) the metal screws that hold it together instead of the elephants that hang down, which is weird but hey, she must have a reason! (PS - We also love the swing because it helps put her to sleep when she's overtired!)
* to "talk". We often have "conversations" where she makes sounds and we pretend that we know what she's talking about, e.g. "Hmm, that's a good point. What other arguments do you have?" or "Oooh, great story! Tell me more!" This usually causes her to smile even more.
* bath time. Ever since we came home from the hospital, she's loved bath time, but now we know she does because she gets a big smile and she kicks her feet. I'm pretty sure that in a few months, our bathroom will be soaked every time she has a bath, but for now the splashes stay in the tub.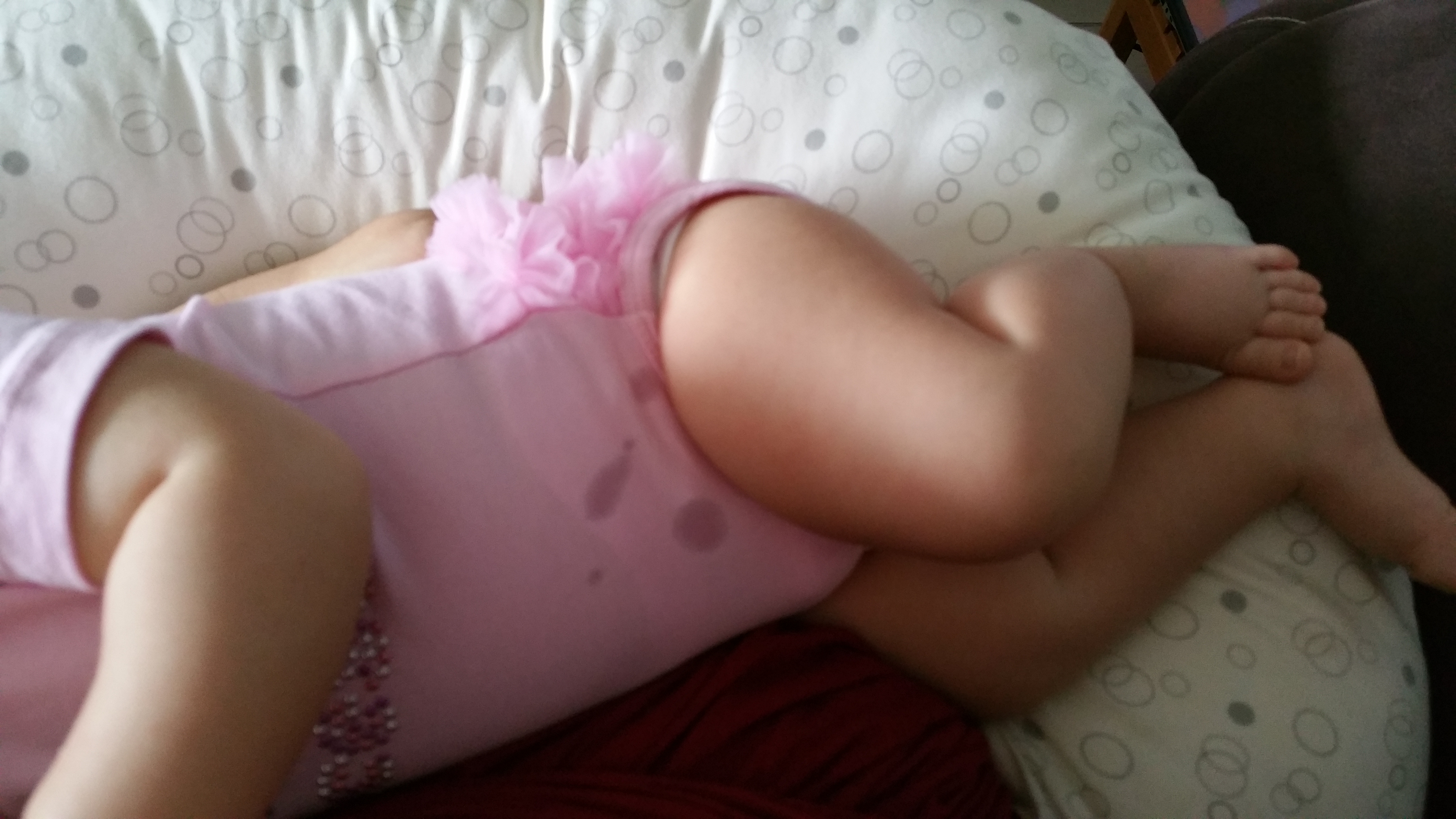 (PS - I still have to finish telling Chloé's birth story and then tell you about our summer. Hopefully now that we're getting into a routine with work and with the nanny, I'll be able to find the time to blog more often!

Baby rolls
July 29, 2018

8h48 0 Comments
One of my favorite aspects of babies are their baby fat rolls that develop over the first few months. Chloé is no exception; she's a healthy eater, so she's starting to develop the cutest baby rolls! On her arm, it makes it look like she's got amazing muscles :)



Chloé's birth story, part 1: laboring at home
July 29, 2018

8h45 0 Comments
Chloé's birth story starts on Sunday, June 17th. That evening, I started feeling contractions every so often, but nothing regular. I had been feeling similar contractions for a couple of days, but for some reason, I had an idea that these were different.

I called my parents around 10pm for our weekly Sunday chat, but I didn't say anything about the contractions I was feeling. I had decided that I wouldn't tell anyone about being in labor until after she was born.

The contractions started increasing slightly in intensity around midnight (about a 2/10 on the pain scale), and they started becoming a bit more regular, albeit spaced apart by 20-30 minutes. I couldn't fall asleep because every time I'd be about to fall asleep, I would feel another contraction and I'd be awake again. I think part of the problem was excitement/nervousness - I had been waiting SO LONG to meet our little girl, and it was finally happening!

Damien's alarm went off at 6am so that he could get ready for work. As soon as he was awake, I told him about the regular contractions and not being able to sleep and we decided that he shouldn't go to work, so he called his school and told them.

(Side note: in France, men get 3 days off work for the birth of their child, and then they get 11 consecutive days of "paternity leave" that they can take anytime during the first four months. Damien and I had decided that he would take all 14 of his days for the birth and the days immediately following the birth, so taking the day off was just his first day of the fourteen.)

Mid-morning, Damien suggested I try to get some sleep, so I took a nap and managed to get about an hour or two of sleep, despite the contractions (which were spaced far enough apart that I could sleep a bit, and their intensity varied - STRONG, weak, weak - and I could sleep through the weak ones).

We spent most of the day Monday just hanging out and watching TV as my contractions continued to increase in intensity while becoming more frequent. The pain was still manageable, so I knew that we still had time before we had to go to the hospital. Throughout the afternoon, I found ways to deal with the contractions: breathing, yoga, bouncing on a yoga ball.

Around 630pm, Damien suggested that I take a warm bath, so I ran a bath and got in. I had heard that a warm bath could help with contractions, and I was hopeful that it would allow me to labor at home a bit longer. Unfortunately, I found that it didn't do anything - I was just having the same contractions but I was in the bath instead of in the living room!

While I was in the bath, Damien made us dinner so that we'd both eat before we headed to the hospital. Despite the pain from the contractions, I managed to eat ... and I even splurged and finished a sleeve of Oreo cookies that was open (I didn't want them to get stale! That would've been a waste!)

At this point, my contractions were lasting around a minute each and were about 3 minutes apart, and they'd been this strong for at least an hour or two, so we decided that was time to head to the hospital. We grabbed my purse, the hospital bag (which was, in fact, a carry-on suitcase) and it was time to go.

The hospital is only about a 10-15 minute drive from our apartment, so I only had a few contractions in the car, and they were manageable. We parked the car and walked to the hospital. On our way, we saw one of my colleagues (the hospital is next door to the university I teach at), so I stopped to say hi briefly. We walked into the hospital around 8pm on Monday, June 18th, knowing that our lives were about to change!



Allez les Bleus !!
July 12, 2018

13h18 0 Comments
Chloé is supporting the French soccer team as they head into the World Cup final on Sunday!

Allez les Bleus !!



Birth annoncement!
July 02, 2018

18h02 0 Comments
Chloé Elisabeth Nicole Dumont was born on Tuesday, June 19th, 2018, at 2:24am (without an epidural!). She weighed 4kg110g/9lbs at birth and measured 53cm/20.87in, and she was born with a full head of dark hair (which she must get from her daddy!) We spent a few days in the hospital before we came home on Friday, June 22nd.

We decided on her name back in December. We both like the name Chloé, and it's pronounced similarly in English and in French. We chose Elisabeth as her first middle name after my beloved grandmother - it was her middle name, albeit with a "z" instead of an "s". We chose Nicole as her second middle name to honor my mother-in-law. Both sides of the family are represented in her name!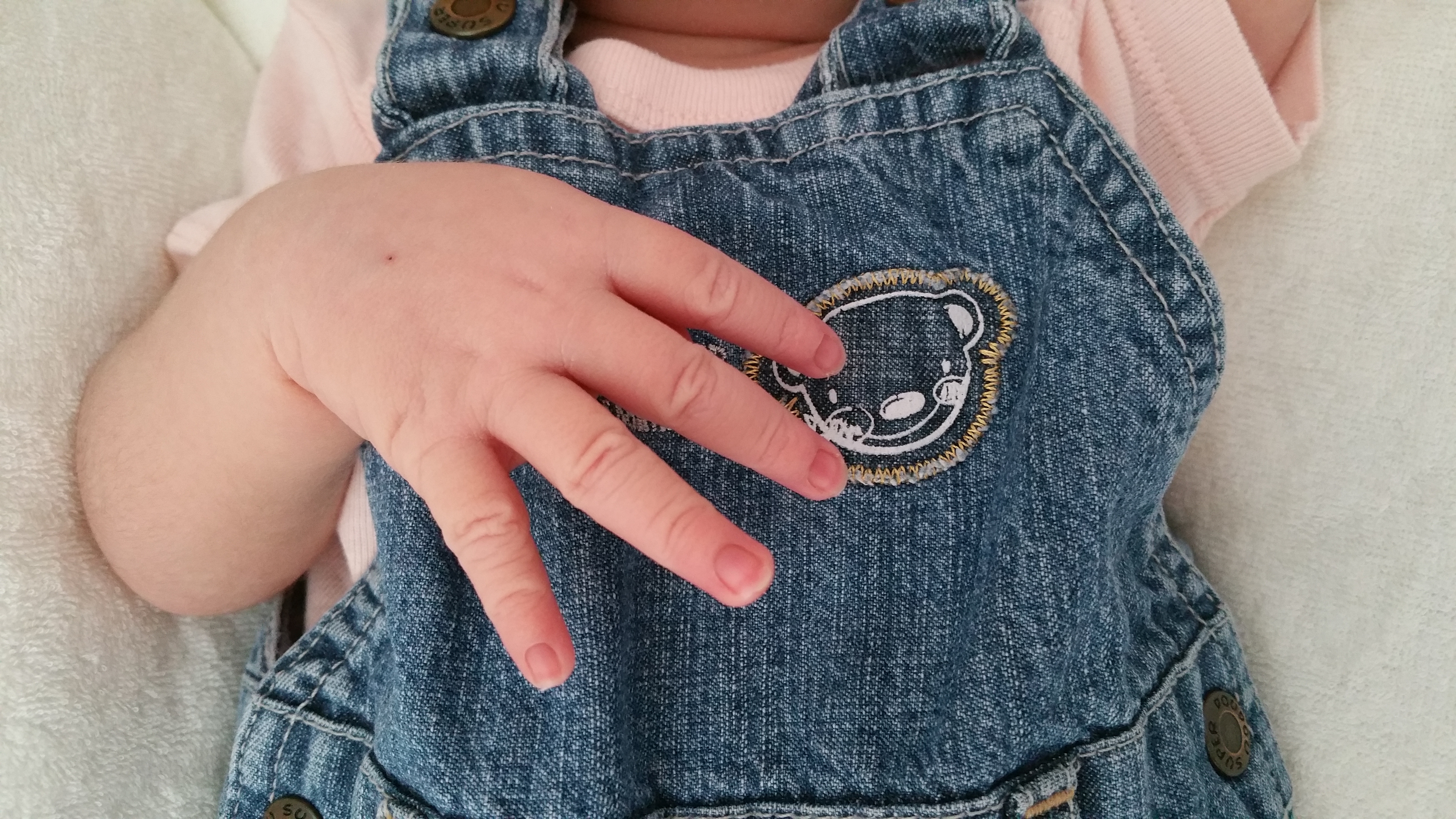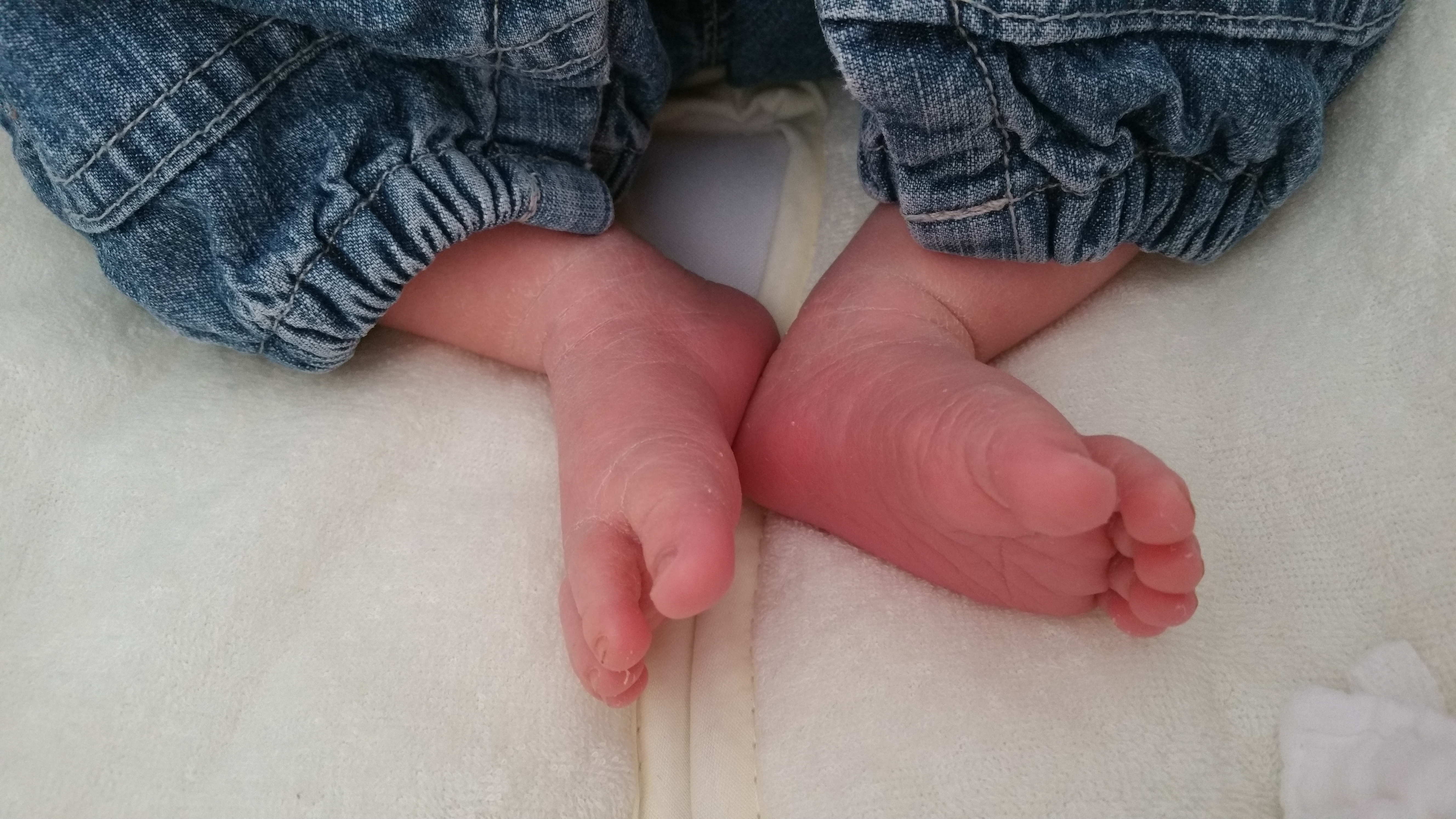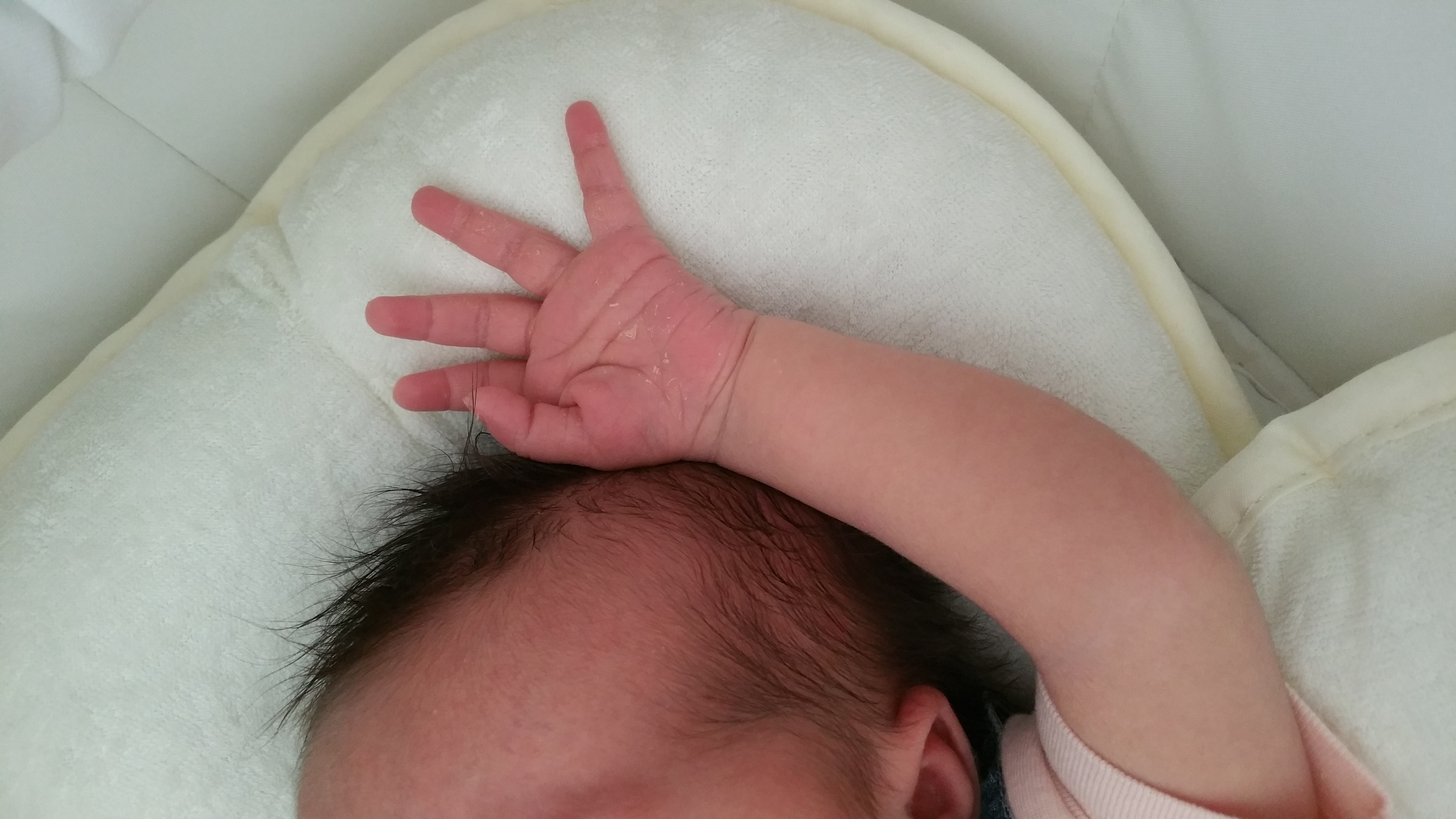 We're still settling in and figuring out a routine, but then I'll get back to posting regularly. I want to tell share her birth story (a 4kg/9lb baby with no epidural!) and talk about how we're slowly figuring out how to take care of this little creature!
In her almost 2 weeks of life outside the womb, she's already accumulated a number of nicknames:


Baby girl

Chlo-chlo

Petit poulet (= little chicken)

Bebe chat (= baby cat)

Shrimpies/Jumbo shrimpies

Monkey

(Little) Monster/Monstah

Countess Dracula

Bebe's still not here yet ... T+3 (American due date) / T-4 (French due date)
June 15, 2018

19h15 0 Comments
A few quick updates while I continue to wait for bebe. I thought she was going to arrive yesterday (June 14th), but I guess I was wrong!

- Still no sign of labor, so I went for a 4+ mile walk with a friend this afternoon (thanks, Carrie, for the company!). I've been home for 2+ hours and still nothing, so I'll try to convince DD to go for a walk with me tomorrow, maybe to the market in the morning.

- While Carrie and I were walking from the park to the metro stop, we found a small Middle Eastern grocery store that looked interesting, so we went in. The owner ended up chatting with us (in French), telling us that he's Syrian and he moved to France in 2009/2010 and he didn't speak a work of French. We ended up having a wonderful conversation, and he recommended a Lebanese restaurant and a falafel restaurant. We also found really inexpensive Greek yogurt (which Carrie bought - if it's good, I'll go back and buy some for us!). As we were leaving, he gave us each two pieces of Syrian nougat to try.

- Some of Damien's 9th graders (3eme) gave us a card and a present for the baby. It was super cute - they wrote (in English) "congratulations" and "bravo". The present consisted of 2 dresses and a small pillow animal for the baby. I wrote them a thank you card (in English) and Damien gave it to them the following day.

- Two nights ago, I stayed up until 2am to finish a book (Anita Shreve's "The Stars Are Fire" - great book!). I've always enjoyed doing that, and I know that it'll probably be the last time in a very long time that I'll be able to do so.

- I've made homemade chocolate pudding twice in the last two weeks, and it's SUPER easy and delicious. Recipe from smitten kitchen: https://smittenkitchen.com/2008/02/best-chocolate-pudding/

- I also had 4 overripe bananas and tried a new banana bread/cake recipe that DD and I both loved. We ate one loaf in about 3 days, and I froze the second loaf for when baby's here and we want something sweet. Snickerdoodle banana bread recipe: https://www.shugarysweets.com/snickerdoodle-banana-bread/



40 week baby bump (June 12, 2018)
June 13, 2018

15h58 0 Comments
This picture was taken on Derica's American due date (June 12, 2018). How has she not decided to come out and make her appearance yet?!

C'mon baby girl, we want to meet you! It's time!!



For those of you who have asked us what we want/need for Bébé Dumont ...
June 10, 2018

17h31 0 Comments
For those of you who have asked us what we want/need for Bébé Dumont (who is due to make her appearance on June 19th but she could decide to come any day now!), the one thing that we could use is baby books and children's books in both English and French. We don't care if they're used, we just want to be able to read to her as much as possible in both languages.

A few sites with free international shipping and decent prices:
- https://www.betterworld.com/
- https://www.abebooks.com/

Thanks to some VERY generous friends (you know who you are!), we already have Goodnight Moon, Brown Bear Brown Bear What Do You See, The Rainbow Fish, and Stellaluna. We also already have copies of the Little Prince (in French and in English).

Our address for shipping:
38 rue Jeanne Hachette
69003 LYON
France

If you have any questions, please let me know!



39 week (and one day) baby bump (June 6, 2018)
June 07, 2018

15h36 0 Comments
Bebe is the size of a watermelon. Hard to believe we've come so far!


<< previous blogposts